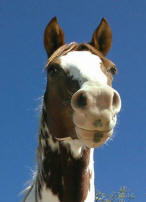 Howdy trail fans,
Spotsie speaking again. I have no idea where the time went since my summer update. But mom already asked me to do the end of the year newsletter. So I guess it is time for me to bring you up to date on the events out here in the desert.
So, after a nice and warm summer break we started trail again beginning of the autumn.. Shortly before we had a new guy arrive here they finally called Rusty. He was supposed to be a 5 year old Tennessee Walker gelding and was in pretty sad shape. We all told him he came to the right place to get well again. He went right out on the first trail. He said the first couple of days were pretty hard on him climbing those mountains of the Arizona trail since he was so run down and out of shape without any muscles. It got easier as his physical condition improved and he worked the trails for the rest of the season loving it.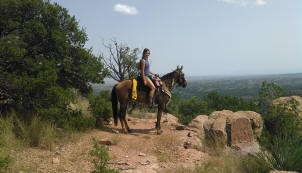 The Arizona trail was the beginning of our last season. The following three Apache trails as well as the very last Superstition trail were almost back to back. That was a good thing so none of us had the time to get too sentimental about the end of the trails.
The last few trails were filled with lots of familiar faces. The many repeat guests made it a lot of fun for everyone. I only got to go on a couple of them since mom started taking my nephew Flash, who she calls lilly Boy now after my beautiful black and white mom Lilly.
I was ok with mom showing him the ropes and he was very proud of himself every time he came back. Mom even used him on my favorite Halloween rides in the Dragoons. I heard he looked very flashy as Jack Sparrow's desert horse. Mom also told me that he'll be staying with us permanently now. She'll be doing some training on some other family members from Utah during the winter month in trade for him. I'm ok with that. He is a pretty cool Kid and will make mom happy when I get older and can't keep up with her anymore.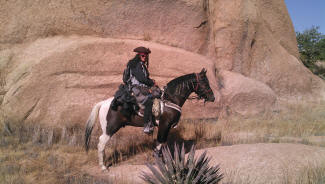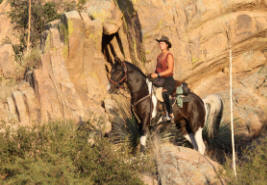 I did get to go on the very last Superstition trail though and we had a blast. Mom said it was a bit emotional for her but we all had fun. It was a big group so almost all of us got to go as one big family again. Even grandma got to go who spoils us rotten on and off trail.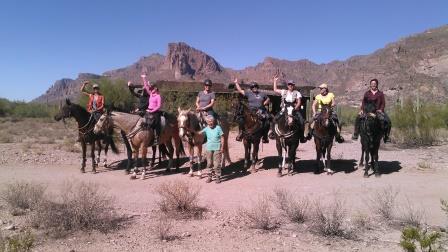 Daughter Lena came back shortly before the first fall trail ready to go. She continued to play with Napoleon, the rescue she brought home from McNeal in the spring. He has calmed down a lot over the summer month to the point that he almost likes humans now. We all had many pep talks with him and he finally came around. Daughter Lena had decided to move back to Germany and take brother Heza and Napoleon with her to continue his education. Heza and Napoleon left last week for Texas where they'll be in quarantine until they fly to Amsterdam beginning of January. From there they'll go to Hamburg and live with daughter Lena. We all wished them well before they left and mom promised to give us frequent updates. Daughter Lena and grandma both left within a couple of days of each other shortly after Heza and Napoleon started their journey.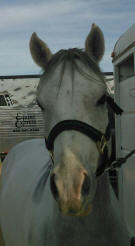 Mom found Hank a great home with an older couple in Phoenix. Some of the other geldings are already making plans for a job change and relocation. Mom says if anyone is interested in sharing their life with any of us contact her or check out our website. Me as well as most of my sisters are definitely staying. Mom thinks that most of my sisters are pregnant to lilly Boy and we are all looking forward to having some babies to play with next fall. We'll keep you updated on that of course.
We already have three new guys from Utah here now mom started playing with. She says she has to work of Lilly Boy and she just loves to work with the youngsters in the family. They are all relatives and adjusted to the new place and us immediately. Mom will be busy working with them over the next month when they'll head home again. Mom will keep you all updated on their progress on facebook. So send her a friendship request if you are not already on her friends list.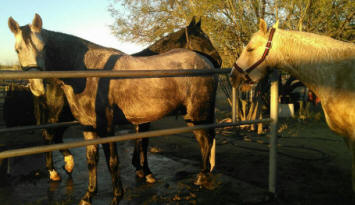 So, as for our future here we'll continue on a more stationary path for now. So far nobody has come forward to continue what we have created over the past 20 years. If you are interested we can still talk about it. Check out our business opportunity page. In the meantime mom is already trying to talk me into endurance rides and pack trips but for now we're all enjoying home life.
I told her to do something more home based for now like offering her shoeing skills to make other horses happy, to teach more horses to become like us, to give humans lessons to communicate with us from the ground and in the saddle and maybe get back into photography or other fine arts projects when things are finally starting to slow down. We'll be keeping our company name and permits for next year. So check our website once in a while to stay informed on what we still offer.
So, as this seems to be it as far as trails are concerned we want to say a big thank you to first of all every one of our guests who have ever joined us and made the past 20 years such a fascinating and big adventure.
Then of course we are very grateful for all of our wranglers and helpers of any sort for being part of our team to make the trails possible.
A big thank you also to all our booking agencies and partners for doing the footwork or better office work to send us our wonderful clients.
And a very big thank you to grandma, grandpa and dad for taking good care of the ones staying at home while the other ones worked on trail for the past three years.
With all of this sentimental stuff out of the way now we do want to wish you all a Merry Christmas and a Happy New Year.
Signed Spotsie, Ebony, Sandy, BG, Bo, Frankie, Blondie, Blue Fire, Queenie, Newt, Rusty, Lilly Boy, the three temporary kids K2, Dr. Who and the Grey, Dan, Katie, Cowboy, Chica, Bandito, Buddy, Missy, Mom and dad. In absence Poncho, Heza, Napoleon, daughter Lena, grandma and grandpa.
Happy Trails to you… Until we meet again…
Off to new adventures!!!!!