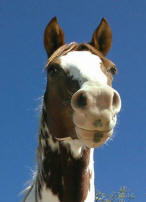 Howdy trail fans,
Mom just told me to announce a news flash.... We still have 5 spots available on the first Apache trail on october 7 th...
Upon special request we have changed the Wilderness trail to a modified Apache trail for the same dates.... There are 3 spots available... See ya then.... Happy Trails!!!
It's me again. Spotsie . Mom told me to to give you a mid yearly update because of all the excitement during the first part of the year. So, here we go.
This year started out with a bunch of work for me. OK, and for mom too a little. We did a lot of trail checking up north for the new wilderness trail. It was a lot of fun though. I got to do quite a bit of the beautiful Arizona trail. Rain or shine we were out there. Mom and I did a couple of fun Obstacle courses.
Then mom started taking me Team Sorting which I really like. I've only heard the older horses who have done it tell me about working the cows. And now I know that it is a lot of fun.
In terms of bookings mom said it was really slow beginning of the year. So we didn't have many riders and mom even said she had to scratch a trail or two. Us horses, we didn't mind. We had fun out in the pasture anyways.
I didn't get to do the new Arizona wilderness trail though. But I did hear that it was a definite adventure. We only had one 'official' guest, a long time friend, on it. The Mazatzals are definitely breathtaking. And everyone got to swim in the Verde river and visit some friends at the historic LF ranch by the river. That must have been quite unique.
Afterwards everyone got to go straight to Williams for two Geronimo trails. They also didn't have a lot of riders on the Geronimo trails, but everyone said they had fun regardless.
In the spring daughter lena brought what they called a ' little rescue' from McNeal.... He was a pityful looking grey and white ghost paint.... Daughter lena spent quite a bit of time with him between the trails. And he got to go with the rest of the gang for the entire six weeks. He is taking a break now and starting to settle right in and put quite a bit of weight on the past two month now.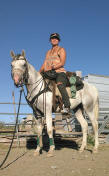 .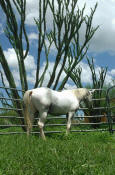 In May mom went up to Blanding and picked up a two year old black and white Foxtrotter stud she is training in exchange for stud fees. He is supposed to be the new herd sire. We'll see. He is a nice guy though I might say, since he is related to me.


Some of us have left us for other people. Prince and Stormy went to live with Taylor and her dad Robert. Taylor is 12 years old and just fell in love with my boy. I think it was mutual. And it was time for my son to find the love his life. So, brother Stormy went with them as the dads horse and promised me to keep an eye on my son. Enjoy, Kiddo.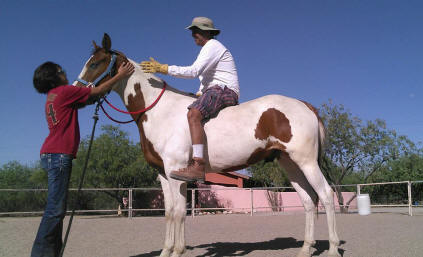 And Kid has finally found the perfect retirement home with Kandace, a 24 year old creative writing student, in Oracle. She had just lost her old horse and was looking for the perfect match to share her life with. They are already exploring new trails in their neighborhood and he has already captured every ones heart with his irresistible charm. Congratulations to our main man. You are being missed.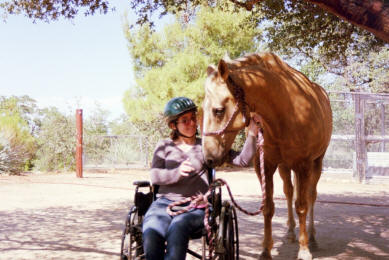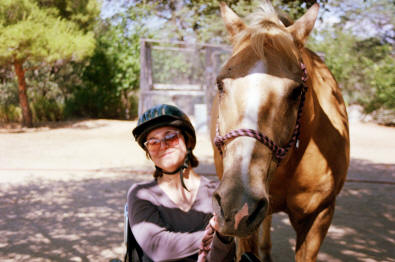 And just recently brother Blue Boy has found a new, irresistible girl friend. Little Belle has just lost her long time friend and was feeling very lonely. So, Blue Boy came to the rescue and will be her new best friend for a while.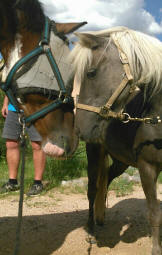 Now, comes some sad news. Most of you have already heard the news, but mom told me to repeat it again to make it official. This is the last year we are doing our trails. After almost 20 years on trail there comes a time to say good bye. We have all talked it over many times and sadly came to the same conclusion again and again. We will finish our regular scheduled trails until November and then regroup. If you do want to join us for one of our last trails there are still a few spots on the Apache Trail in october, 2 more for the Superstition trail and three for the wilderness trail. Actually we still need one more rider for the Wilderness trail in October to make it a go. So, what are you waiting for. This year in particular should be still colorful until late fall. we have gotten record rainfall this summer and it is greener then ever. The desert is blooming again.
So, you are welcome enjoy the beautiful Arizona desert and celebrate the final trails with us.
click here to check availability.
Mom has also not given up on finding some one to continue our trails. So, she has worked out some options for a take over. If you are interested click here.
Most of us will stay and live happily ever after with mom and dad. Maybe more work for me since mom has more time on her hands to keep me busy. But she will also get back to work training (the training page is under construction) and shoeing (and the farrier services page is also under construction) outside horses. So I might not have to work too hard.
That's the news for now . I will keep you posted and give you a new update towards the end of the year.
Signed,
Spotsie